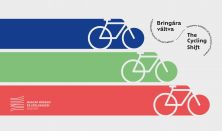 Buy tickets
13 Event
"Csoda, Robusta és Rakéta – annak a közlekedési eszköznek a fantázianevei, amely a legszorosabb kapcsolatban van az emberrel: az ember ereje hatja és szoros fizikai közelsége feltétele az eszköz mozgásának.
Warning! The basket time limit is about to expire!
estimated time left:
00:00
Time limit has expired. Please, put item(s) in to basket again.
---